Annual Toys for Tots Gala
"Salute to the USO"

Friday, November 18, 2016
Hilton Chicago/Northbrook Hotel · 2855 Milwaukee Ave, Northbrook

The Gala's live/silent auction raises funds for Toys for Tots and for its Youth programs. Last year, the Gala donated $6,100 to the Marines' Toys for Toys Program and $2,000 for the Counci's support of the Sea Cadets and Naval Junior ROTC.

On April 20, 2016, the Edward Marshal, President of the Glenview Council awarded two scholarships at the Wheeling Naval Junior Reserve Officer Training Corps Annual Awards Ceremony. The Glenview Council sponsors the Wheeling High School JNROTC.

Photo: Edward Marshall, Glenview Council President, Cadet Lt. Mathew Hufano, Cadet LCDR Lauren Monsen


Cadet Hufano was also awarded a ROTC scholarship at Loyola University and Cadet Monsen was also awarded a ROTC scholarship at Georgetown University.


Click Image For Full-Size Photo

A check for $6,100 that was delivered to Marine Corps Air Control Group 48.

Left to right - SgtMaj Isaacson; Edward Marshall, Council President, Mary Long, Toys for Tots Gala Chair; Col. Paul Weaver, Commanding Officer of MACG 48, GySGT Dennis Jones, Toys for Tots Coordinator.


Click Image For Full-Size Photo

The USS Illinois Commissioning Committee, and the Union League Club coordinated a statewide contest inviting Illinois high school students to submit their design ideas for the official crest of the USS Illinois.


From nearly 150 submissions, five student entries were selected as finalists and the winning design was chosen by the officers and crew of the SSN 786.


The winning design was submitted by Christopher Durdle, a senior from Monmouth Roseville High School, Roseville, Illinois. Captain Jessie Porter, Commander, and Union League Officials presented an award to Christoper at a luncheon, held on April 2, 2015, at the Union League Club.
The Glenview Council is on the Sponsoring Committee of the nuclear submarine USS Illinois (SSN 786), which is being constructed in Groton, Connecticut.


Council member Bobby Ferguson is the Co-Chair, and Council President Mary Long is on the Gifts Committee.


Be sure to visit the ship's commissioning website at www.ussillinois.org.
THE GREAT LAKES REGION IS BUILDING NAVY SHIPS AGAIN!
Our Council Is Proud To Support
The Navy's
Littoral Combat Ship Program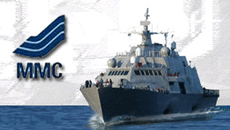 Marinette Marine Website
LCS: The Future Is Now
Lockheed Martin: About the LCS Program
CLICK BELOW FOR SHIP INFORMATION








EVENTS - Next 30 Days




Full Events Calendar
COUNCIL NEWSLETTERS




[PDF Reader Required]